---
In 2005, a group of dedicated and motivated Temple members
organized Tikkun Olam of Temple Emanu-El.
Tikkun olam literally means
"to fix the world" and is considered a core value among Jews. At Emanu-El, the Tikkun Olam Committee identifies ways in which we, as a synagogue, can "lend a helping hand," particularly through social-action projects that are intended to make life better for others in the community.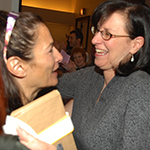 Our first event was a congregationwide
Mitzvah Day,
at which we came together to help others in a variety of hands-on projects. In 2014, Temple Emanu-El celebrated its
10th Mitzvah Day
. As part of the 2014 program, it was announced that the congregation had donated $25,000 to build a school in Guatemala in honor of Rabbi Amy Ehrlich's 26 years of service to Temple Emanu-El. The project was kept secret from Rabbi Ehrlich until it was announced during Mitzvah Day.
View photos and a video from this event »
We invite all Temple members to join our efforts and
to experience the feeling of gratification that
comes from helping others.
Back to Volunteering