---
Temple Emanu-El's weekly seminar on Talmud examines
the text in English translation, with informal yet spirited discussion.
No background in Talmud or Hebrew is required.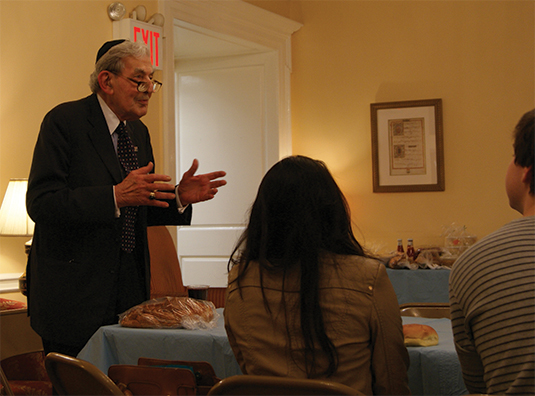 Rabbi Philip Hiat
, of Marymount Manhattan College Campus Ministry and scholar in residence at Central Synagogue, leads the weekly seminar, as he has for more than 20 years. For 5777, Rabbi Hiat has chosen as the text, to be read in English,
Hamafki,
part of the third chapter of the tractate
Baba Metzia.
It examines laws between people and is considered the most significant chapter in civil and commercial litigation.
Among other topics,
Hamafki
deals with the responsibilities of the trustee; intentional and unintentional damages; penalties; and the authority of judges and mediators. Ethical behavior is its theme, leading to just commercial interaction between people. Through study of the text, we can see the Talmudic influence on Western civilization.
This is eighth tractate taught by Rabbi Hiat at our congregation.
There is no charge for this class. All are welcome to join at any time during the year — both newcomers to Judaic studies and those who have long been studying.
Classes meet Wednesdays, starting September 7, 2016, and continue through June 28, 2017, from 6:15 PM to 7:15 PM.
Participants should enter at the Marvin and Elisabeth Cassell Community House (One East 65th Street). Come when you can and when you wish.
For more information, contact the
Temple Office
.
Back to Lifelong Learning